Thermal Optics Terminology Explained
Thermal Optics Terminology Explained
Thermal Optics Terminology can be confusing to hunters and consumers who have previously only hunted with standard riflescopes designed to be used in daylight or with the aid of a light. Thermal optics also are different from night vision optics that often use infrared illuminators to "illuminate" or "light" the view of the scope. The image sensor in a thermal scope "senses" or sees heat and they do not rely on any type of visible or infrared light to aid viewing.
All that being said, when a hunter starts thinking about purchasing a thermal scope or handheld device, they need a basic understanding of the terms used to describe thermal optics. This post is intended to help people new to thermal scopes understand those terms. Jason Robertson, owner of Outdoor Legacy and HansETX do a great job on The Late Night Vision Show explaining so many of those terms, but I thought it would be a good idea to write down some of the key points, because a couple of days after watching the video, the memory can sometimes fade.
In addition to the long version here on the blog, I will also provide you the terminology in PDF format so you can print the terminology out or save it to your computer or other devices. So let's take a look at some of the terminology of Thermal Optics that apply to thermal rifle scopes and thermal handhelds (thermal monoculars/binoculars). Of course, before buying any thermal optic, I highly recommend calling Jason at Outdoor Legacy
so he can point you to the best thermal optics for your particular needs.
Thermal Optics Terms
Thermal Rifle Scope – A rifle scope used for hunting at night that uses a heat-sensing imaging core, instead of visible or infrared light to display your area of view. Thermal optics can see in complete darkness and uses the differences in heat of objects viewed to create a video image of the area. A thermal riflescope is basically a thermal camera with an aiming device (reticle). Many newer thermal scopes have video recording capabilities built in to record the hunt. (unless you are like me and get so excited you forget to hit the record button).
Thermal Core Resolution – The heart of any thermal optic is the thermal camera core. This is the most important and expensive part of the optic. The better the thermal core, the better your optic will perform. The best cores in high-end optics now provide 640×480 resolution while the less expensive, but very good optics provide a 320×240 or similar resolution. Generally speaking, the higher the resolution, the better the image quality.

Pixel Pitch – The pixel pitch is a measurement of the distance between the pixels of the digital image in the thermal sensor. The measuring unit is a micrometer, commonly called a micron. Today, most thermal optics are 12 to 17 microns, with the lower the number being the best quality.  BAE Systems, ULIS, FLIR and other companies make cores for thermal optics and the best cores used in hunting thermal optics at the time of this writing use a 12-micron detector, providing a good clean image quality.

Refresh Rates – Similar to TV and monitors, thermal scopes refresh the image on the display screen constantly. Although it is hard to distinguish the difference between 30 and 60 Hz refresh rates while you are standing still, there is an advantage to a scope that refreshes the image 50 to 60 times per second. For instance, when you are in a moving vehicle and using a thermal scanner for scouting, your image will be better with a faster refresh rate. It may also help when sweeping the area from side to side searching for game.  Most of the time the differences will be unnoticeable. Any refresh rate lower than 30 Hz should be avoided due to the "lag" and choppy image quality you will likely experience.

Pulsar Axion Thermal Scanner
Thermal Scope Display Types – Similar to televisions, thermal scopes have different types of displays. Older scopes use Liquid Crystal Displays (LCD) but newer and higher quality scopes now use better technologies, like organic light-emitting diode (OLED) or active-matrix organic light-emitting diode (AMOLED). Either of these provides outstanding clarity. The newer versions of the Pulsar thermal models of scopes use AMOLED displays for better performance in extreme conditions with temperatures ranging from -13° to 122°. There are several grades of AMOLED displays, and again, the higher end scopes will have the higher-end OLED or AMOLED displays. 
Objective Lens Size – Many daytime hunters, especially those who hunt low light situations, rely on scopes with larger 50-56mm objective lenses to gather more light and give them a larger field of view. Thermal scopes do not gather light, they rely on heat or thermal sensors, so while the larger objective lens may help the image quality, the larger lens is not as important on a thermal scope as it would be on a traditional day time scope. The quality of the lens is the most important factor. In fact, the objective (front) lens of a thermal scope is not made of glass, but rather a material called Germanium. Germanium has a high index of refraction, low optical dispersion, and good heat transfer making it a critical component of fiber optics and optical instruments like thermal optics. For thermal scopes, the quality of the Germanium lens and the coating of the lens are most important for the best performance.
Ocular Lens – The eyepiece, or ocular lens, is the lens that is closest to the eye. The quality of the eyepiece varies in scopes but is a critical factor in clarity. About the only way you can determine the eyepiece quality is to compare similar scopes by actually looking through them or consult an expert in the field you can trust to point you in the right direction.
Re-calibrating (NUC'ing) The Scope – Thermal Scopes are constantly "burning" an image onto the thermal imaging core. As an extreme example, if you are hunting and leave your thermal scope pointed in the same direction for more than a few minutes, it may put a "ghosted" image over the display of the objects your scope was previously pointed at. The image of those objects is "burned" into the thermal core temporarily. This problem is resolved by a re-calibration, sometimes referred to as "NUC'ing". Artifacts are constantly being temporarily burned into the thermal core and if the unit is not re-calibrated or NUC'ed, the image will start to appear darker and grainier until it becomes unusable after a longer period of time. Some thermals perform this refresh automatically and some require manual re-calibration. This automatic NUC'ing may give you the idea that your display has frozen for a partial second and you might hear a soft "clicking" sound, but actually it is just re-calibrating.  Many of the scopes that re-calibrate automatically will give you a warning before it auto-NUC's.
If your scope has manual re-calibration, it is a simple procedure. Different scopes have different procedures. All it amounts to is clicking a button or turning a knob, closing the lens cover for a couple of seconds and hitting the button again go to back to active mode. The whole procedure takes only a few seconds.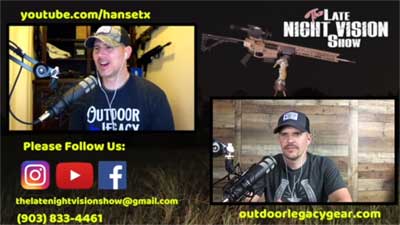 How to use Thermal Optics Terminology
Of course, you still have a lot more questions about Thermal Optics. If there is one piece of advice I can give you, it would be to talk to an expert. Do not try to take this limited information along with watching a couple of videos and try to buy your first thermal optic from eBay, Amazon or some big box store that doesn't have hands-on field experience with all the optics they sell.

Contact a reputable dealer and layout what you want the optic for and how you plan to use it. I have always been one of those guys that try to cut out the middle man. This is one time when you need not just a good dealer, but a great dealer like Jason Robertson at Outdoor Legacy. When you buy new optics, the prices are pretty much the same. The difference is the guidance you get before the purchase and the customer service you get after. Also, be wary of dealers who claim to sell at a discount because customer service before and after the sale can be worth a lot more than a discount on a scope.

Based on my past experience, you can not beat the information you get from Outdoor Legacy. Jason and HansETX are constantly evaluating Night Vision and Thermal Optics. They produce some of the most informative YoutTube videos and podcast programs you will find. Outdoor Legacy is not a department store or big box store. They specialize in night vision and thermal optics and superior customer service.
But don't take my word for it. Check out the informative Late Night Vision Show on YouTube or search for the show on any podcast app. Be sure to visit the Outdoor Legacy website or give them a call at (877)350-1818. 
If you would like the short version of this post to print or save to your device, click the PDF download.