Sightmark Wraith 4K Mini Night Vision Scope Review
Sightmark Wraith 4K Mini Night Vision Scope Review
Full-color Day Mode & Night Vision in a one-pound package!
The Sightmark Wraith 4K Mini 2-16x32 Digital Riflescope is a digital day and night vision rifle scope in a compact one-pound package. It can be used as a regular rifle scope during daylight hours with a full-color 1280x720 display or used as a night vision scope during nighttime. During the nighttime, the included 850nm Infrared Illuminator can be used with the scope to allow it to see clearly past 200 yards.
Sightmark Wraith 4K Mini Technology
The Wraith 4K (3840x2160) CMOS sensor detects objects for hundreds of yards in the darkest of nights and displays them on a 1280x720 FLCOS screen.  The Wraith 4K Mini 2-16x32 Digital Riflescope combines Sightmark's rugged quality with advanced digital optic technology.
The Wraith features a built-in camera and video recorder so you can record and share videos with sound using a micro-SD card. It has 14 reticle options and 9 color choices that can be quickly changed to fit your hunting conditions. Reticle choices include both first and second focal plane reticles, a feature not available in glass scopes.
It uses two CR123 batteries and has an external type C MicroUSB port for external battery packs. Video resolution in day mode is 4K color high definition and at night it is 720 white/black mode.
Since the 4K video files can be very large, the Wraith can accept up to a 256 GIG micro SD card for data storage. A 64 GIG card will hold about 1.75 hours of video.
If you have never used a digital scope before, it is much like using a video camera with a reticle that can be used as a weapons-mounted scope. The image you see is the same as the image you see when recording a video with a 4K camera or cell phone.
Premier Features of the Wraith
Day/Night mode – full color for day use, black & white for night vision mode
4K (3840x2160) CMOS sensor
1280x720 FLCOS display
2x optical base magnification with up to 16x digital zoom
Customizable tactical & hunting reticles – 10 reticle options & 9 color options for better accuracy
2 CR123 batteries for up to 4 hours of battery life and includes an external Micro USB power input
4K video recording with sound
External IR Illuminator included
External power port for (optional) USB battery power
5 Weapon Profiles
First Focal Plane and Second Plane Plane Reticles
Sightmark Wraith 4K Mini user manual
Sightmark Wraith 4K Mini - Getting Started
The Wraith comes with a fixed tactical type mount with a heavy bolt for secure mounting to a Picatinny rail. A quick detachable mount is also available from Sightmark for about $50. I secured it to my 6.5 Grendel AR and headed to the range for zeroing and testing. The Wraith is rated for rifles up to 308 Winchester caliber and is best suited for modern sporting rifles. The standard mount or QD mount brings the scope to just the right height for my AR15.
The first great thing I found at the range was how easy it is to zero. All the controls are right at your fingertips and the menus are easy to navigate. The built-in zeroing function lets you fire a shot on target, then hold a crosshair on the aiming point while you move a second reticle to the shot. Just like that, you are zeroed in a few shots. You are doing this in full-color mode and it could not be easier.
The Wraith can store up to five zero settings for different bullet weights or different rifles. I set up my 6.5 Grendel and then moved it to my .223 upper and set it up for my favorite varmint load.
Battery life is good. One set of Lithium CR123 batteries will last 3-4 hours. The scope has a battery life indicator that changes from green to yellow to red. You will still have almost an hour of power left after the indicator turns red.
I have shot the Wraith at the range in bright sunlight, at dusk and total darkness and the display screen is always clear. There is a brightness control in the settings if you think it is overly bright in full sunlight. The diopter focus adjustment on the rear eyepiece lets you focus the reticle until sharp for your eyes, and makes the screen info easy to read.
The front manual focus adjustment is precise and the focus ring has a firm movement that does not change unless you physically turn it. An added feature on the 4K Mini is a throw lever on the focus ring that makes it easy to find and use in darkness. (see photo below)
Great Digital Daytime Scope
The thing that drew me to this scope was not the night vision capability, although it performs great in that capability. It was the ability to capture my daytime hunts in 4K video. I love to record as many of my hunts as possible, but without lugging a camera around with me on my hunts, or a heavy scope on my rifle.
The Wraith 4K Mini records AVI-format videos in 1080p and/or 4K resolution, so each hunt can be captured in high-quality detail. With its 8x digital zoom, full-color imaging during the day, I am able to do just that. The 1280x720 FLCOS display is really good when you need to examine the size of a buck before you pull the trigger.
Don't get me wrong, the nighttime capability of this scope is great too. It has two digital night vision color palettes (black & white or custom), 850nm IR illuminator, and lets you zoom the image with good resolution.
Hunting With Sightmark Wraith 4K Mini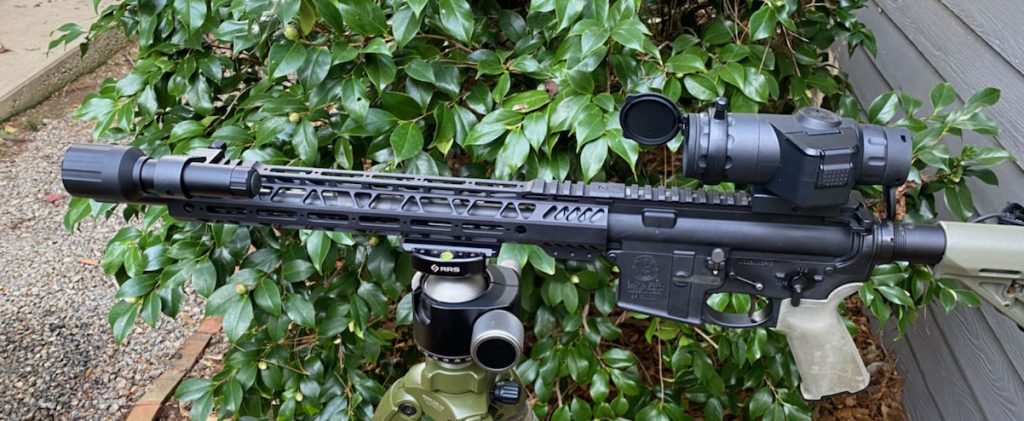 The clarity of the Wraith is much better than the older Sightmark Digital models. The adjustable focus of the scope gives you a clear and detailed image at any distance. The included Sightmark 850nm IR illuminator is a good light out to about 200 yards and runs on 2 CR123 batteries.
If you are new to digital night vision, expect the image at night to look like the image you see through a regular scope at night using a powerful white light. The image is black and white and you see the reflection of eyes from nocturnal animals, like coyotes when they are looking directly at you. The advantage is that the IR illuminator gives off no visible light.
The IR Illuminator Can Make or Break Your Hunt
The 850 IR illuminator uses 2 CR123 batteries, comes with an adjustable mount and attaches to any Picatinny rial. It is compact, can be zoomed from flood to a pinpoint beam, and has three power settings. That being said, the quality of the scope is much better than the factory illuminator's range. A quality IR illuminator like a Sniper Hog Light, available from Outdoor Legacy Gear, can double the light so the Wraith can deliver clear images at a much longer range.
The best place to mount the IR illuminator is below the barrel just behind the muzzle. Reflection from gun smoke when you shoot can prevent quick follow-up shots if there is no wind to blow it out of your way. Do not think there is a problem with the scope going out of focus, it is just a reflection. Setting up across wind can help you get quicker follow-up shots. If you shoot a rifle with a muzzle break with ports on top, you may want to shim the break to point the ports to the bottom to direct gun smoke to the ground.
Learning how to focus the IR is a very important aspect of using the scope in night vision mode. In fact. it is the hardest part of using a digital night vision scope. Before you go hunting, be sure to set the IR up on the rifle you intend to use and properly aline the IR with your scope image. I like to use the side of a building at about 100 yards away and focus the light down to a narrow beam to align the light with your scope reticle. The CR123 batteries in the Illuminator last for about 2 hours of continuous use.
The video above shows you how important stand selection is when hunting with a night vision scope. I have killed several coyotes in the past on this stand with my thermal scope. This is a good stand for thermal but not for night vision. The terrace in front of me cast a shadow into my shooting area. I could still see the coyote but not very well until he crested the terrace. I should have been on or right behind the terrace so my illuminator could cast more light into the target zone.
If you are calling coyotes or other predators, try to select a stand so that you are not overlooking a low hill that will block your light and cause dark areas in your field of view. Also, be aware that vegetation in front of you can cause you to get a lot of light reflected back at you. In that situation, narrowing the beam can sometimes help.
If you open the illuminator to flood the area with light, you will sometimes get a lot of reflection from grass or tall weeds. Focusing down to a more narrow beam helps you to see better at longer range and reduces the reflection. Focusing down to a too narrow beam of light can narrow your field of view a little too much.
You will learn to focus the light to fit the hunting situation and terrain in a short time but will find that there is no one setting for all situations. Being aware of how to maximize the IR capability will help you be more successful.
Wraith Mini 4K Scope Controls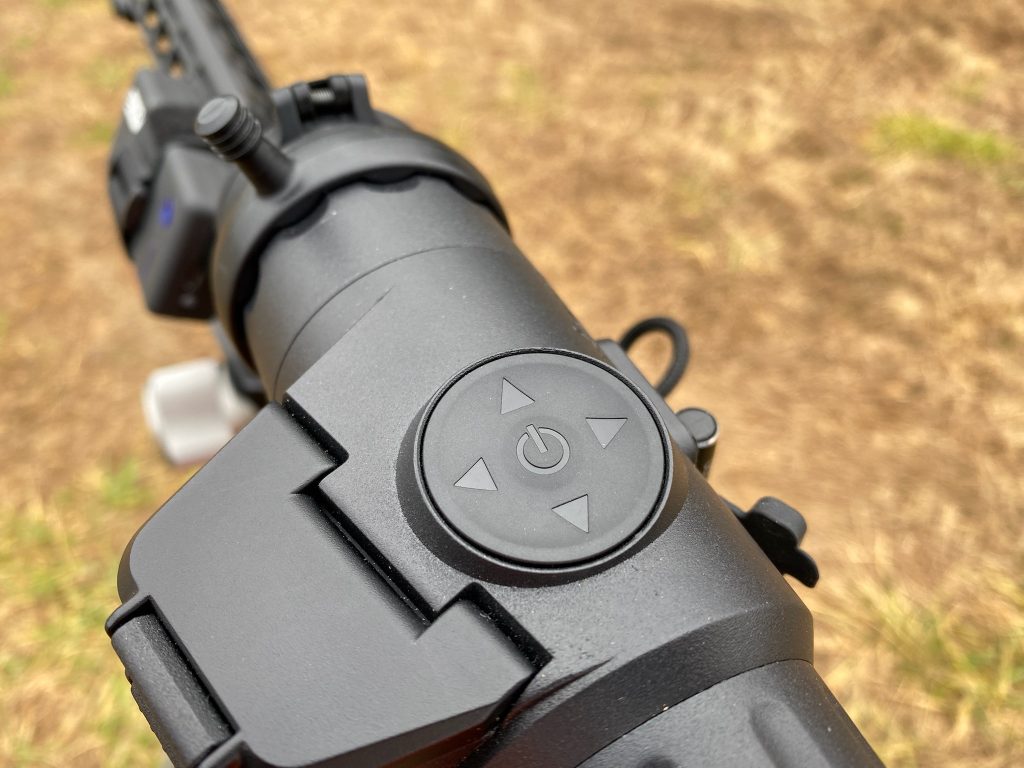 The Wraith's control buttons and focus rings are very easy to work in the dark. All of the functions you use during hunting are accessed using the arrow buttons around the center power button. After using the Wraith for a short while, using the functions are just second nature. The Wraith powers up in only 5 seconds! The focus throw lever makes focusing very easy.
MENU/POWER- To power on the unit, hold the power button until the unit turns on. To turn it off, hold
until the display shuts off. To access the menu, click the button and the menu will open.
DAY/NIGHT/NIGHT CUSTOM MODE- Use the left button to toggle between day, night, and Night Custom. The left arrow lets you select day or night modes. Night mode is not just for night vision hunting. Night mode is very effective for early morning and dusk to let you see in low light conditions without using the IR illuminator. You will be able to see through the scope in night mode without the IR better than you can with the naked eye.
DIGITAL ZOOM- Use the up and down arrows to adjust the magnification. This unit has a digital
magnification range up to 8x. Many digital scopes double the magnification as you increase magnification. The Wraith 4K Mini lets you zoom from 2X to 3X, 4X, 6X, 8X, 10X, 12X, 14X, 16X. Being able to zoom in small increments is very useful, especially when hunting at night when the field of view is as important as magnification.

STADIAMETRIC RANGEFINDER- To activate stadiametric rangefinding, adjust zoom to the lowest level
and press down one more time. Stadiametric rangefinding mode is now activated. Use the up and down buttons to adjust the crossbars to match the top of the target's body and the bottom of its feet, and then press the center button to display the estimated range. Press the right button to change target animal between hog, coyote, deer or custom. Press left to exit.
RECORD/PHOTO- Use the right button to start/ stop recording or take a photo.
Sightmark Wraith 4K Mini - Likes & Dislikes
When I reviewed the Sightmark Wraith HD 4-32 Night Vision scope, I liked everything about it except the heavy weight and the field of view. Sightmark has answered both my concerns with the Wraith 4K Mini. The Mini is compact and lightweight, plus it has a much higher resolution and better video capability.
The base magnification is now 2X giving the Wraith Mini a 40-foot field of view at 100 yards. The scope is now much more useable and 16X is plenty of magnification for any hunting situation.
I know the IR illuminator is not the best, but it is good enough for most hunting situations and other illuminators are available if you think it is absolutely necessary for your hunting needs. Jason can include a Sniper Hog Light when you order for a few more bucks.
The Sightmark Wraith 4K Mini did everything well. Daytime images are sharp, night images are great, and the Wraith functioned perfectly. Operating the digital controls is a little different than a traditional scope but very easy after you get the hang of it.
The menu is easy to use with many options to let you personalize the scope with several reticle styles and colors, brightness settings, video settings and it can store 5 weapon profiles. The controls are conveniently located and even in complete darkness, they are easy to operate. The objective lens throw lever is a really great feature that makes operation much easier in daylight and especially at night.
I only have one complaint about the Wraith 4K Mini is the poor quality of the lens caps. They do not fully open, they sometimes block the view, and are too fragile.
If you are a night hunter and not ready to spend big bucks on a thermal scope, then the Wraith 4K Mini is your best option. Couple the Wraith with a thermal scanner and you will be a serious threat to any hog or coyote. 
The more I hunt with the Wraith 4K Mini, the more I appreciate what a great piece of hunting equipment it really is.  I am looking forward to many hunts in the daytime and nighttime with the 4K Mini. Looks like this will be another scope that won't make it back to Outdoor Legacy Gear after I finish the review.
Shop Sightmark Wraith 4K Mini at Outdoor Legacy
I am writing this in December of 2021. Right now, the Sightmark Wraith 4K Mini is in stock at Outdoor Legacy Gear. If you want a new Sightmark Wraith 4K Mini Night Vision Scope, call Hans or Jason at  Outdoor Legacy at (877)350-1818. If the Sightmark Wraith 4K Mini is out of stock you can get on the waiting list or pre-order on the website with a $100 deposit. Jason will take the time to help you decide what thermal scope or other night vision optic is best for your hunting needs.
For the latest news about Night Vision Optics, subscribe to the most informative show on Youtube, the Late Night Vision Show. Hosts Jason Roberts and Joel Miller will keep you up to date on Night Vision Optics and entertain you with some great hunting videos.
Also please visit our featured Youtube channels Outdoor Legacy on Youtube, HansETX, and The Old Deer Hunters for great hunting videos and thermal optic reviews.