Pulsar Thermion XQ38 Review
Pulsar Thermion XQ38 Review

The Pulsar Thermion XQ38 2.5-10x Thermal Riflescope is the most anticipated thermal rifle scope of 2020, and possibly the best all-round mid-level thermal riflescope Pulsar has produced. The Themion XQ38's new 388×284 17-micron sensor and 2.5X base magnification combine to make this scope suitable for all types of night hunting in any terrain. I think the Thermion XQ38 has all the features a hunter could ask for in a medium-priced ($3300) thermal optic. The image quality plus the 2.5X base power is going to make it Pulsar's best seller for the year.
Thanks to Jason Roberton, owner of Outdoor Legacy Gear, we had a chance to see how this new Thermion XQ38 compares to the now discontinued Thermion XM38 that it replaced.
Pulsar Thermion XQ38 – A Better Scope
The Thermion XQ38 is a replacement for the Thermion XM38. It is new inside and out and will be the answer to a lot of hunters' needs. On the outside, it is still a 38mmThermion, and the only thing that has changed is the objective bell of the XQ38 is the same size as the XQ50. The real changes are on the inside with a new thermal core with image boost technology, a 2.5X base magnification, and an improved AMOLED display.
A lower base power of 2.5X and a new thermal core are the main differences between the new XQ38 and the old XM38. The XM38 used a 320×240 12-micron thermal core and had a base power of 4X. The XQ38 uses a 384×288, 17-micron thermal core with new "Image Boost Technology". Pulsar's "Image Boost Technology" helps the thermal core to improve the NETD rating to <40Mk, which is about the best available in thermal hunting optics. The lower NETD rating provides improved heat differentiation for improved image quality. Improved heat separation makes everything in the image sharper and brighter.
The new thermal core with image boost lets you see separate trees, rocks, and bushes instead of blobs and the animals you are hunting are brighter and easier to identify. On "bad thermal nights" when it is humid or rainy making things harder to detect, the new Thermion XQ38 will help you detect more game at longer ranges.
Pulsar Thermion XQ38 Features
QX38 Special Features include;
Internal video and audio recording and still image capture
Four distinct viewer mode options
16GB of internal storage
Picture in Picture function
StreamVision smartphone app
Full-color AMOLED display
Multiple color palettes, as well as the traditional "black hot" and "white hot",
Multiple color reticle options
Up to 10x digital zoom
IPX7 fully waterproof rating
Withstands recoil for calibers up to and including the .375 H&H, 9.3×64, and 12ga shotguns
Scroll down for full Specifications
Thermion XQ38 Battery Life
The Thermion XQ38 is powered with an internal battery (3000 mAh) and a replaceable Pulsar APS2 (2000 mAh) rechargeable battery. The built-in battery is housed in the tube and the other replaceable battery is located in a battery compartment where the elevation turret is normally located on a conventional scope. When the replaceable battery is completely discharged, the riflescope switches automatically to the built-in battery. The replaceable battery can be removed and replaced in a matter of seconds. If all battery power is exhausted, the scope can be powered from an external source via a mini-USB port on the side of the scope. A longer life Pulsar APS3 battery may also be used in all Thermions and can be ordered separately. Current prices for the APS2/3 rechargeable batteries packs are $99-$119.
The battery life of the Thermion XQ38 during our bench testing was very good. For the test, I turned it on and let it run without any interruptions. The temperature was about 65 degrees. The scope ran for over 5 1/2 straight hours on a single charge.
On my last hunt, we were out for about 3 hours from 8-11 PM on a warm Summer night. I recorded several videos, switched the display to standby when things were slow, and powered down when in the truck moving to new stands. The XQ38 switched from the external APS2 to the internal battery around 10:30 PM.
Now that I have informed you of my test results, do not think you do not need an extra ABS3 battery. Pulsar should ship the scope with two APS3 rechargeable batteries but they only include one APS2 battery. Invariably, something is going to happen that will cause you to need that extra battery. You will forget to turn the scope off after charging it, or you will get that uneasy feeling when you only have half the power of the internal battery remaining before the last stand, or your buddy will call with hogs everywhere and you have forgotten to recharge the scope. Trust me, you need an extra ABS3 battery!
Some hunters choose to add an external battery pack to their rifles for backup power, but there is one thing you must be aware of when using external power. The weakest and most vulnerable part of the Pulsar Thermion is the little Micro-USB connector used for the charging port. Running around at night with a cable hanging out of that port is asking for trouble. If you break that connector, you can not charge the internal battery.
Pulsar Thermion Scope Controls
The Pulsar Thermion controls are easier to use than any other scope on the market. The layout of the controls is different than most thermal scopes. If you are new to thermal optics and have used traditional scopes with an adjustable objective lens, it will be an easy transition to the Thermion. If you are used to the controls of a Pulsar Trail, Helion or Flir product, you will find them much easier to use. I love my Pulsar Helion 2 Monocular for scanning but the controls of a Thermion are just easier to use.

Pulsar Thermion Controls Are Easy To Use
On top of the eyepiece are the controls for power, video recording, and magnification. They are laid out in a triangle grid within a small circle that makes it easy to operate at night for most users. On the left side where turrets are normally placed on conventional scopes, you find the controller knob. All menu functions must be accessed through the controller knob. There are no buttons to toggle between white-hot to black-hot like other Pulsar scopes and scanners. Instead, the quick functions of the Thermion controller used while hunting access brightness, contrast, range estimation functions.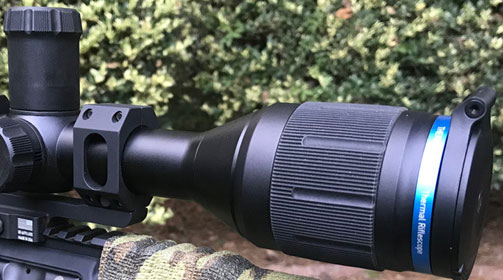 Pulsar Thermion Adjustable Objective Lens
The focus ring is in the same place as a regular riflescope with an adjustable objective on the front of the scope. It has a wide rubber covered adjustment ring that is easy to access with the non-shooting hand, but pretty hard to turn. It is not as easy to use as a Pulsar Trail scope that has a top-mounted focus button but it is simple and easy to use. The flip-up lens cover is made of hard plastic and does a good job keeping dust off the lens.
Pulsar Thermion Palettes & Reticles
The color palettes on the Thermion XQ38 are the same as last year's models. You have several different reticle colors to choose from and reticles with colored center dots in several sizes. Reticle colors include Black/Red, White/Red, Black/Green, White/Green, Red, Green, Yellow, Blue, and Orange. I am sure you will find a combination that you will like.
The color palettes range from simple black hot /white hot to all the shades of the rainbow. One of the colors I have come to like is Sepia. I normally use the white hot palette, but the Sepia palette is easy on the eyes and makes detection easy. Color Palettes include White Hot, Black Hot, Red Hot, Red Monochrome, Rainbow, Ultramarine, Violet, and Sepia.
The Thermion has three reticles (X51Fi-300, M56Fi, M57Fi) with "Smart Reticle Function". When the digital zoom is changed, the reticle that is displayed on the display is scaled, i.e. its view will change (increase or decrease) in proportion to the variable magnification. This allows the use of ballistic reticles with any digital zoom power. This function is similar to a conventional front focal plane scope with ranging reticle, ie, it ranges properly at any power. Download the Thermion Reticle Catalog for more information.
Thermion XQ38 Great For All Kinds Of Hunting

The new Thermion XQ38 gives hunters a great thermal scope suited to just about any type of hunting. Pulsar has finally answered the call for a medium-priced thermal riflescope with a 2.5X base magnification. Most hunters I know hunt a variety of species and their hunting areas range from woods to wide-open spaces. In the past, base power availability seemed to jump from 1.5 X to 4X or higher. You had to choose one or the other and if you hunted multiple types of habitat you were sometimes handicapped with either of the choices.
Pulsar's new Thermon XQ38 with a base power of 2.5X gives you a wide 54′ field of view at 100 yards. That is twice the field of view of the discontinued XM38. If you stalk in close on hogs, you have plenty of room to track the runners after the first shot. In most night hunting situations, a wide field of view is more helpful than higher magnification.
In those situations where you need more magnification to take longer shots, the new <40MK thermal processor with Image Boost Technology provides adequate resolution at higher magnification. When you have to bump up the magnification, there is still a good image for precise aiming.
Wide Field Of View of Thermion XQ38 – 55-gallon drum feeder at about 100 yards
In the screen capture above, the feeder is about 100 yards away. Using the picture-in-picture feature of the Thermion XQ38, you can see there is not much pixelation in the 5X image in the small window. You can clearly see how much corn is in the feeder, and even the feeder motor and legs. The warm power pole behind the feeder, at about 125 yards away, is sharp with very defined edges, similar to how an animal would appear at that distance.
Hunting With Thermion XQ38
The Thermion XQ38 is great for hunting coyotes and hogs. My first hunt with the Thermion XQ38 was for hogs and they just did not show up. It still gave me an opportunity to see what kind of image the new 384×288 thermal core produced. I was not disappointed. I did not expect the crystal clear image of a 640×480 thermal core, but I did expect high quality in a $3300 thermal riflescope.
Thermal Scope manufacturers all have different objectives. Some companies concentrate on the overall image quality, and that is great for top-tier thermal scopes. The image in a 384×288 core scope, in my opinion, should be geared toward the hot spots and not on the entire image. When I am hunting, I really do not care how great the details of the background appear. I am concerned about detecting and identifying the target, and then being able to see a bright and defined target so I can make the shot. I do not want everything in shades of gray, I want a dark background and a very bright target.
That bright hot spot is what the new Thermion XQ38 gives you. Take a look at the deer in the video below. The background is good, but the deer stand out brightly with very good detail. You can clearly see the buck's velvet antlers 170 yards away on 2.5X base power. That is the kind of image I like in a mid-range scope.
I also want to bring to your attention how easy the Thermion Riflescope lets you change brightness, contrast, and viewer modes. You can use the quick menu to make fast on the fly changes in seconds. If the clear night gets a little wet with dew or fog, it is simple to make quick changes to compensate for the conditions. One thing you can count on, if there is an animal within sight, it will light up like a Christmas tree.
Putting the power of the thermal core on the hotspot, also makes it possible to utilize the variable power of the XQ38. When you double the base power to 5X, animals at longer ranges are still clearly defined to help you identify the target and make the shot. Many thermal scopes get so pixelated on higher magnification that the higher powers are not useable, but this is not the case with the Thermion XQ38.
The video below is a good example of how the image quality lets you double the 2.5X base magnification and still have a clear picture. The image of the second coyote in the video was still very good when I doubled the magnification. I know I am dwelling on this issue, but it is very important for the first time buyer to know.
The next point that I think is very important is the field of view. Pulsar has changed the QX38 series of scopes to a base magnification of 2.5X. The field of view measures 54 feet wide at 100 yards. Many first-time thermal scope buyers will not have funds for a thermal scanner. If you are in that group, you need a scope with a wide field of view. The old Thermion XM38 field of view was only 30 feet wide and 23 feet high. It was very difficult to scan a field with such a narrow field of view. The Thermion XQ38 gives you more than 3 times the viewing area than the old Themion XM38. If you have to scan with your scope, the Thermion XQ38 is the obvious choice.
I really liked hunting with the Thermion XQ38. It is a little shorter and lighter than the other Thermions like the XQ50, and for me, lighter is always better. I usually hunt with a 3.5X Thermion XQ50, but I did not feel at all handicapped with lower base magnification when hunting coyotes with the XQ38. If you hunt coyotes in large, open areas most of the time the XQ50 may be better for you. If you hunt hogs more often than coyotes or you hunt smaller areas where most shots are 50-150 yards, the versatile XQ38 is my recommendation.
Pulsar Thermion XQ38 Likes & Dislikes
Base Magnification – Pulsar listened, gave us a mid-tier scope with a 2.5X base magnification, and now we have a near-perfect all-around thermal riflescope. It has enough base power magnification for any type of hunting and a thermal core that is good enough to be used at 5X or even 10X magnification for longer shots.
Wide Field Of View – I like the wide field of view. It helps me find hard-charging coyotes quicker when I move from the scanner to the scope. That wide field of view makes followup shots on hogs easier too. I think it is really hard to find a more versatile thermal riflescope than the new Thermion XQ38.
Easy To Use – The Thermion series of thermion riflescopes are easy to use. The controls are better and easier to use than the Pulsar Trail or other brands of scopes I have used. The controller knob is much easier to use than buttons for the main menu or the quick menu. I like it much better than buttons. The controls you need buttons for are the power, magnification, and record, and they are conveniently located together on top of the eyepiece. You do not have to be a trumpet player to operate the controls. You can go from display off to on, hit the record button, and double the magnification for a shot in mere seconds. No other scope is faster for the functions that you most often use.
Excellent Image Quality – The image quality of the Thermion XQ38 is very good. I think the new thermal core and display screen provide an improved image quality over the older XM38 scope. The new 384×288 thermal core provides a great image on its base magnification and a nice image at higher magnification. Using the picture-in-picture lets you have a large clear field of view and higher magnification for precise shots at longer range.
Superior Video Recording – It has excellent internal video recording that can be downloaded directly to your PC in the popular MPEG4 format. If you want good quality videos for Youtube and social media, the Thermion makes it easy. You can also use the Stream Vision App to download recorded media to your mobile phone or stream live video of the action.
What I Would Change – There are only a couple of things I wish Pulsar would do to make this and all Thermions better. Put and an extra rechargeable battery in the box, and change the Micro-USB power connector to a USB-C. The USB-C connector has a reversible/symmetrical design. It is a much stronger design and a lot easier to use when you need to plug it into the external power in the dark of night. At least two other thermal manufacturers have made the change and it is time for Pulsar to do the same.
No matter what you hunt at night, the new Pulsar XQ38 Thermal Riflescope will get the job done. Great design, perfect base magnification, and high-quality image. I really think it is the best mid-priced thermal riflescope you can buy.
Pulsar Thermion XQ38 Specifications
38mm / F1.2 Lens 
384×288 Resolution
50 Hz Refresh Rate
17 µm Pixel Pitch
Updated Thermal Core w/ <40 Milli Kelvin temperature sensitivity
Greater temperature sensitivity than previous units
1500 Yard Detection Range
Field of View 54ft at 100 yds
2.5-10x Magnification
Length 15.5″
Weight 26.5 oz
High-Resolution AMOLED Display
IPX7 Waterproof
4-7 Hours Continuous Operation Time (Rechargeable)
Image Boost Technology
Compatible with standard 30mm Scope Rings or One-Piece Mounts
Instant Start-Up
Can be powered externally from a USB power source
Stadiametric Rangefinder
Onboard 2.4GHz Wifi
Firmware updates at home through the Pulsar Stream Vision App
3 Year Factory Warranty
Thermal Scope Demand High, Supply Low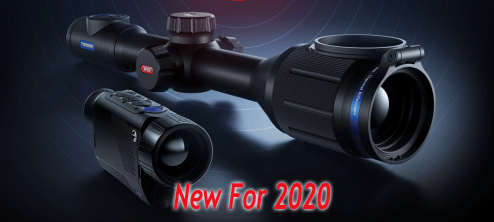 Shop Pulsar Thermal Optics at Outdoor Legacy
I am writing this in September of 2020. Right now, the Themion XQ38 and XQ50 models are arriving at dealers very slowly. If you want a new Pulsar Thermion thermal scope like the Thermion XQ38, call Jason at  Outdoor Legacy Gear at (877)350-1818. If the Thermion XQ38 is still out of stock you can get on the waiting list or pre-order on the website for $100 deposit. Jason will take the time to help you decide what thermal scope or other night vision optic is best for your hunting needs.
For the latest news about Night Vision Optics, subscribe to the most informative show on Youtube, The Late Night Vision Show. Hosts Jason Roberts and Joel Miller will keep you up to date on Night Vision Optics and entertain you with some great hunting videos.
Also please visit our featured Youtube channels Outdoor Legacy on Youtube, HansETX, and The Old Deer Hunters for great hunting videos and thermal optic reviews.