Pulsar Axion XM30 Thermal Monocular Review
Pulsar Axion XM30 Thermal Monocular Review
Pulsar's new Axion Thermal Monocular series is their latest offering for hand-held thermal scanning. The Axion line of thermal monoculars is Pulsar's entry-level thermal scanner and brings affordability to the hand-held thermal market without sacrificing quality and features. This review will cover the Axion XM30, the mid-range Axion model. We will see if Pulsar has hit the mark for our night hunting needs.
The two other models of the Axion series are the Key XM30 and XM38 each with their own unique features. The Key model is the basic scanner without video recording capability, no smartphone streaming app and lower image quality. The regular XM30 and XM38 both have video recording capabilities. The XM38 has a little larger objective lens and higher magnification compared to both the Key XM30 and XM30.
If you are a hunter just entering the thermal market, two things that are hard to ignore are the compact size and the compact price, starting at a few pennies under $1,900. The mid-tier Axion XM30 retails for $2,199.
Axion XM30 4-16x Thermal Monocular Features
The heart of the Axion XM30 is the 320x240, 12 Micron Thermal Core with a 50 Hz refresh rate. It has a high definition AMOLED display with a 1024X768 pixel resolution, three magnification powers, a base power of 4X, and a Germanium objective lens. It also features 8 color palettes giving users the option of viewing objects in several color modes instead of only the traditional white-hot or black-hot modes.
Magnification: 4x-16x
320×240 Core Resolution
24mm Objective Lens
12 Microns
50hz Refresh Rate
1312 yd Detection Range
1024×768 HD AMOLED Display
Instant Start-up 
Li-Ion Battery Pack APS3
IPX7 Waterproof Rated
16GB of on-board storage for pictures and videos
8 Color Modes
White Hot / Black Hot  
Up to 4 Hours Battery Time 
Built-in Video Recording/ Stream Vision App 
The Axion is IPX7 weatherproof rated so it will work reliably in the typical cold wet weather of hunting season. The IPX7 rating means the unit is submersible to 3ft of water for up to 30 minutes. The bodies are made of rugged a magnesium-alloy for lightweight and years of reliable service. The Axion shares the same APS3 lithium-ion battery pack with the new Pulsar Thermion thermal rifle scope making the two a natural match for a hunter. One type of battery pack for both units keeps things simple. This battery pack will power the Axion for 3-4 hours depending on the temperature.
Instant Start-Up – Thanks to a change in internal power components, the new Axion boasts an almost instant start time from the display off mode. The unit will power up in just a few seconds, but also has a "stand-by" mode. In this standby mode, it switches off the display to save battery power but allows instant startup with a touch of the power button.
Axion First Impressions
Right out of the box, I was impressed with the Axion XM30. Compared the Pulsar Helion Thermal Monocular and the Sightmark Signal 320RT Digital Night Vision Monocular I have been using, it is so much more compact and weighs only a few ounces. It is very similar in size and weight of my compact Leica binoculars. Hung around your neck on a lanyard or in your pocket, you will never notice the weight. This is a huge plus when you are hunting at night and already carrying a 10-lb AR, tripod, electronic varmint call, extra batteries and ammo. Score +1 for the Axion XM30.
The next thing I noticed was how simple it is to set up and use. The controls are right at your fingertips and after a quick review of the instructions, I was able to use it in just a few minutes. Taking photos or video recording with the Axion XM30 is as simple as learning which button to use. The menu is easy to navigate and connecting to the Stream Vision app lets you stream to another device or download video recordings or photos.
Axion Video Recording
Video Recording is a feature of the XM30 and XM38, but neither of them record audio. After talking to several hunters, none of them thought a scanner needs the recording capability, but most do want the recording feature in their rifle scopes. A hunter will no longer be using the scanner when the action starts because you will be looking through the rifle scope long before the shot.
For this report, however, video recording is a great feature because I can record photos and videos to demonstrate how well the monocular works. We will be able to see the quality of the image at various yardages and how far away it can identify animals. While recording the video below, I found it superior to my Sightmark Signal 320RT digital night vision monocular for locating animals quickly, and not too far behind the Pulsar Helion Thermal scanner for locating game.
Wild Game Detection & Identification
The Pulsar Axion XM30 Thermal Scanner is made for locating and identifying animals at night by sensing the body heat of the animal that is different than the surrounding terrain. Detection of your prey is the first priority when scanning. Find the animal first, then identify it.
For this thermal scanner to be effective, the hunter must be able to not only see the animal glowing, but the detected animal must be recognizable. You must be able to identify different species of animals at long range. The ability to identify the animal gets harder as the distance gets farther away. A key evaluation point of the Axion XM30 in this review is to see how far away a hog or predator can be distinguished 
In the video above taken with the Axion XM30, there is a whitetail doe at about 200 yards. I could definitely tell it was a doe after watching her move around for a few seconds. I tried to look at this deer with my Signal 320RT night vision binocular, but reflections from the tall grass prevented seeing the deer at all. To the left of the deer was a herd of cows bedded down at about 100 yards and recognition was immediate. To the right of the deer, at about 300 yards, I could detect one large and two small animals that appeared to be pigs in tall grass. The identification at that distance was not 100%. I would have had to close the distance to confirm if the animals were indeed pigs.
The Axion is an entry-level scanner at almost $1,000 less than the base model Pulsar Helion. You may not be able to identify every small animal immediately at a long range, but the detection of animals is very good. It will detect animals the size of hogs or deer out past 700 yards and locating your prey is the most important factor to make your hunt a success. Coyotes in an open field can be detected at least 400 yards. Coyotes slipping through the tall grass might not be detected until they are within 100-200 yards.
Not being able to identify animals at a very long distance should not discourage you from selecting the Axion. While using a good thermal monocular, you will be detecting wildlife or domestic animals at a very long range. Without a thermal scanner, you will never know the animals are there. Locating more animals at a long distance is what this thermal optic is designed to do. After you locate your prey, you will either be calling predators closer or stalking in closer to hogs for a good shot.
If you have only hunted at night with digital night vision scopes or lights, what will first amaze you is how animals stand out against the background. When scanning across a cut hay field in black hot mode, it looks like you are seeing jet black "targets" in a field covered with snow. Animals stand out like the stars in the sky. Identifying hogs or predators in the open is easy at 300-500 yards, but tall grass and weather conditions might make it more difficult at longer range.
After using the Axion XM30, I think it is more beneficial to have a thermal scanner, than a thermal scope. If you can only afford either a thermal scanner or a thermal rifle scope, consider buying the thermal scanner first. A modern night vision scope, like a Sightmark Wraith HD coupled with an Axion XM30 can be a deadly combination.  On one of my hog hunts, I was using the Axion to scan and a light attached to my scope for shooting.  I found a hog in a field with the scanner and then stalked up for the successful shot.
Axion XM30 ImageTesting
In the video above we tested the image quality of the Pulsar Axion XM30 thermal monocular at 300 yards. The dog is about the same size as the average coyote. You can clearly identify a person and the dog. At about 1:50 into the video, the magnification was raised to 8X and then to 16X. The image at 8X was good, but at 16X, it was a bit fuzzy.
Of course, the best test was hunting with the Axion, and it did a great job for me.
There are several color settings in the unit so it will be easy to find a color palette that you like. I like the "black hot" or "white hot" normally, but I really do want to see if the new color palettes help in identifying animals any quicker or easier.
Successful Coyote Hunt with Pulsar Axion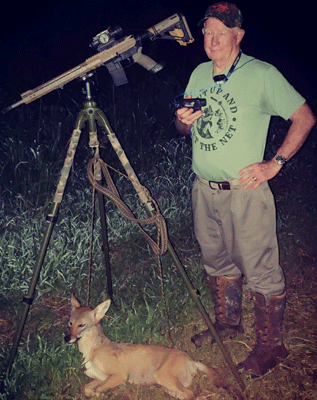 After coyote hunting with the Pulsar Axion, I can tell you that it is a very good scanner. Small animals like coyotes can be identified out to 250-300 yards and larger animals like deer and cattle past 700 yards.
On the first stand, I spotted a coyote coming in at about 100 yards to my left. By the time I got my rifle turned, he had vanished.
On the second stand, the young female coyote pictured came in pretty quickly, circling around in front of me toward the call. I picked her up in the Axion just after she crested a hill about 200 yards away. She stopped at about 150 yards, I picked up my rifle and Doug, my stepson, started the count-down. A pair of 223's put her down on the spot. Thanks to the Axion, we were on the scoreboard.
As we walked out to where we thought she lying, we could see nothing with our lights in the 8″ tall grass. Again the Axion made short order of pinpointing the downed coyote. Some of my biggest frustrations with night hunting without thermal is finding the animal after the shot. Locating downed game is another big plus for thermal scanners. With a thermal scanner like the Pulsar Axion, you find more game before the shot and more after the shot.
I hunted for approximately 3 1/2 hours and still had 50% remaining on the battery charge. Most of that time the Axion was on except for approximately 30 minutes of driving between three stands. It did the job very well and the small compact size was a big plus for me in the Georgia heat. Everything functioned well, it was easy to use and the controls are easy to navigate in total darkness. For my hunting needs, I am very happy with the Axion XM30.
One thing users should be mindful of is the battery release button.  It is easier to accidentally depress the battery release than some other units.  On one occasion I pulled the Axion from my pocket to discover it had no battery.  Luckily the battery was in my pocket. If you do not have a spare battery, you might want to put a small piece of tape over the battery to prevent loss.
The Pulsar Axion XM30 Is A Winner!
The Pulsar Axion XM30 does everything well. It may be an entry-level thermal monocular, but it is a great entry-level thermal monocular. It opens up the world of thermal hunting for $2,199 ($1,899 for the Key model) with features you would not expect from an entry-level optic.
Will it help you locate MUCH more game if you do not already have a thermal scanner? – YES. 
Will it be a great companion to your thermal rifle scope? – YES
Is it lightweight, easy to use and waterproof? – YES
Is it as good as a $4000 Pulsar Helion – NO.
The thing I cannot stress enough is just how impressed you will be if you have never used thermal optics before. I really think any night hunter would be well served by the Axion XM30 Thermal Monocular. It has everything hunters expect from this level of a thermal optic, and it will make you a much more effective night hunter. The detection range is far superior to a digital night vision monocular and the identification range is certainly sufficient for the most hunters. Combine this capability with the compact size, flyweight and low cost for a thermal optic and I would say Pulsar has a winner with the Axion XM30!
A Suggestion to Pulsar
If I could change a couple of things about the Axion, it would be to combine the XM30 and the XM30 Key's features into one unit. Keep the 1024×768 HD AMOLED display, reduce the XM30's power range to 2.5-10X, and omit the recording capability for cost savings. When calling predators, the hunter is constantly scanning left and right trying to spot approaching animals like coyotes. A relatively wide field of view (2.5X) makes sweeping the area much easier and faster, especially in close quarters hunting. A top power of 10x is usable and enough power for long-range use. After using the Axion a couple of times, I never bothered to change the power setting to more than 4x.   
Visit Outdoor Legacy to purchase an Axion or other quality thermal optics. If you have questions, please call Jason Robertson at (877)350-1818.
Also please visit Outdoor Legacy on Youtube and HansETX for great hunting videos and thermal optic reviews.
If you're looking for great reviews and commentary on the latest in the night vision and thermal industry be sure to tune into The Late Night Vision Show, a weekly podcast hosted by Jason Robertson and HansETX.