AGM Varmint LRF TS35-384 Thermal Scope Review
AGM Varmint LRF TS35-384 Thermal Scope Review
The Game-Changing Thermal Scope
The AGM Varmint LRF TS35-384 3-24X Thermal Rifle Scope is a game changer! This new thermal rifle scope gives you the excellent image AGM is known for, but more importantly, gives you a built-in, easy-to-use integrated Laser Range Finder for under $3300! In addition, this new scope is powered by a single rechargeable 18650 battery that will give you up to 6 hours of hunting time on a single charge.
The AGM Varmint LRF is a compact thermal scope with laser range finding capability. We tested the  AGM Varmint LRF TS35-384 but it is available in multiple configurations: 384×288(50 Hz) thermal detector or 640×512 (50 Hz) thermal detector, and 35mm or 50mm objective lens. Each of the units has a different magnification range.  These options allow the customer to choose the perfect unit for their needs.
The AGM Varmint LRF TS35-384 has a highly sensitive, 12μm thermal detector and 1024×768 OLED screen. The AGM Varmint LRF provides a very good image day or night. The device can be used as a thermal riflescope or handheld monocular and can be applied to scenarios such as patrolling, hunting, and static observation.
The built-in laser range finder of the AGM Varmint LRF is designed to measure distance to a target out to 600 yards. Our test unit was accurate out to 650 yards. It has a small box on the screen that you bracket the target in, then a single push of a button gives you the reading. Measurement results are displayed on the scopes screen in the upper right corner.
One 18650 rechargeable battery gives the device up to 6 hours of continuous operation time. Compared to a similar scope using CR123 batteries, the Varmint's 18650 rechargeable battery will save you about $10 per hunt. Two 18650 batteries are provided with the scope.
An external 5V power bank (battery pack) can be easily connected via a USB to USB-C connector for a significant increase in operating time. The device has 16 Gig's of storage for on-board video recording and image capturing. It does not capture audio. An internal Wi-Fi module for live video streaming and video/image recording via the T-Vision application are included.
The AGM Varmint LRF TS35-384 uses the same basic body as the AGM Rattler series of scopes. The scope is only 8.5 long × 2.6 wide × 4.2 in tall and weighs less than 25 ounces. It can easily be used as a thermal riflescope or a handheld thermal monocular for scanning.
Another plus for this thermal riflescope is the mount. It comes from the factory with the excellent American Defense Manufacturing single lever quick detachable mount at no extra charge. This single lever configuration is not only secure but makes reattaching the scope to the rifle quick and easy without a need to re-zero.
AMG Varmint LRF 384 3-24X – Easy To Use
The AGM Varmint has only 3 control buttons. It is very easy to access the menu or use in the field while hunting. The LRF sensor is located on the top of the scope and the control buttons are on the left side of the scope. This might cause a minor issue for left-handers, but for right-handed users, AGM has made it as easy to use as possible.
The red power button (see photo above) powers the scope on and off and puts the scope in standby mode with a quick press. The center button is used for ranging a target with a quick press or recording with a long press. The third button is actually a push button/scroll knob to access the menu, change the color palettes, or change the magnification power.
Personally, I like this button layout much better than the Rattler layout or any other scope with a multiple push-button layout. At least for right-handed shooters, it is the best button layout I have seen on any thermal rifle scope.
While hunting, a quick push of the scroll button lets you cycle through the color palettes. Turning the knob raises or lowers the magnification power. When you enter the menu with a long press of the scroll knob, you can use the scroll function to quickly move through menu items and push the button to select a menu function.
Setting up a rifle profile (or reticle) is very easy also. On AGM scopes, each reticle has its own profile settings. After setting up a zero profile for the first reticle, you can just copy the coordinates to the other 4 reticles if you use the scope on one rifle, or you can set different reticle profiles for 5 different rifles. You will have to note which reticle is used for which rifle as you can not name the reticle profiles.
The first reticle can be set up with two zero ranges. It lets you add a hash mark below the crosshair for a second yardage zero. For example, you can zero the main crosshair at 200 yards, and add a hash mark below the crosshair zeroed for 300 yards.
There is a screen freeze function when zeroing a reticle that will help you zero your rifle in just a few shots. When you get a shot on paper you can freeze the image while holding the crosshair on point of aim. A second movable crosshair will appear that you can move to the shot using the scroll knob. After scrolling to the shot, you press save to set the new coordinates. You do not have to count clicks or hold the crosshair on point of aim while moving the crosshair while using the freeze function. I was able to zero my rifle in 4 shots. Two at 25 yards to get the bullet impact 1.5″ below the point of aim, and two at 100 yards to get it zeroed at 100 yards.
The AGM Varmint lets you easily change the brightness and contrast for different weather conditions. It also has 5 different reticle designs and 4 reticle colors (red, green, black, white).
The Picture-in-Picture function provides you a 2X multiplied window that can be set for the center or either top corner of the screen.
Using the AGM Varmint LRF TS35-384 Laser Range Finder
The range finder is a small module on the top of the scope and adds almost no weight to the scope. I think this design is much better than most large side-mount LRF modules that attach to the side of the scope and can weigh 6-8 ounces.
You will notice a small box on the screen in addition to the reticle. This small box is used to bracket the object that you want to range. To range the object in the box, just quick-press the center button. The range reading is provided in the top right corner of the screen in yards or meters.
You can set the range finder in the menu to do a quick range, or set it to continuously range for 15 seconds with one press. I preferred the 15-seconds ranging, especially for coyote hunting when a hard-charging coyote can cover a lot of ground in 15 seconds.
Where the ranging box appears on your screen depends on your rifle zero. While you are zeroing your rifle, you move the reticle. The ranging box does not move so the box may be left, right, above, or below the crosshair after your rifle is zeroed. On my rifle, the box was about two MOA below the crosshair. The place the box appears on your screen is strictly dependent on your rifle's zero point. You can only move the crosshair, not the box.
The range finder works very well out past 600 yards and is accurate. I checked known-distance targets on my local range using the Varmint LRF and compared it with my stand-alone range finder to check accuracy.
When used while hunting I was able to range coyotes at over 300 yards, but like any other range finder, it will work better on larger targets or short-range targets. Every once in a while at long distances or on grass-covered slopes ranging very small objects, I did not get a reading. For ranging objects at long distances, you will need to be supported on a tripod or other type of support to keep it steady enough to get accurate readings.
Overall, the range finder worked very well, and after using the AGM TS35-384 Varmint LRF , I don't want to go back to scope without an LRF.
AGM Varmint LRF TS35-384 Great For Hog or Coyote Hunting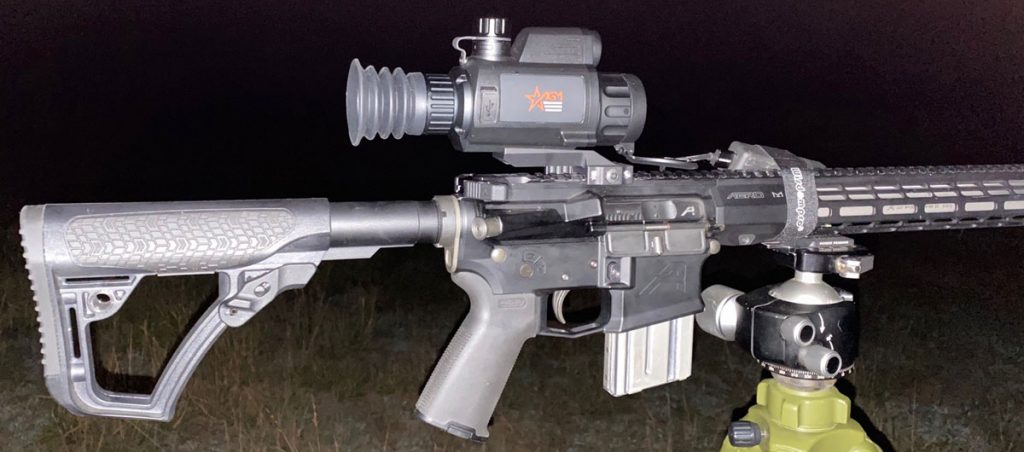 The AGM Varmint 384 was paired with my custom-built Aero Precision 223 Wylde shooting 55 gn VMax Handloads
The AGM Varmint TS35 is a great choice for any type of night hunting. The light weight makes it easy to carry for hunters who cover a lot of ground on a hunt. The 3.0X base magnification is enough for most varmint hunters and not too much for hog hunters unless ranges are very short. It has a 40 ft field of view at 100 yards, so you can see a lot of territory in front of the scope. My hunting friends and I hunt a variety of species and our hunting areas range from woods to wide-open hayfields. Everywhere I used the AGM Varmint TS35, it did a very good job.
In those situations where you need more magnification to take longer shots, the thermal processor provides adequate resolution to bump the power up to 6 or 12X. But remember, this is a medium-range 384×288 thermal scope, so it is best used at ranges under 200 yards at the base magnification of 3X or maybe 6X in good conditions.
Hunting With AGM Varmint LRF TS35-384
The AGM Varmint LRF TS35-384 is great for hunting coyotes. It is so lightweight and easy to use, all you have to do is concentrate on the hunt. It took only a short time at the range for zeroing and we were successful from the very first hunt. The Varmint TS35-384 is simple to set up, and deadly in the field. The image is excellent for its price range, and the 12-micron sensor keeps it clear at 3X magnification.
I took the Varmint on several coyote hunts and even a beaver hunt. Shooting ranges were from 50 to 200 yards and I never felt handicapped in any scenario. Shots on coyote-size targets at 200 yards are very doable. I think the AGM Varmint TS35-384 LRF with its 3X base magnification and 40″ field of view is the best option for coyote hunters and not too much for hog hunters. You can get a Varmint with 4X base magnification but the field of view is pretty narrow.
IT's The LRF, STUPID! Of course, the reason you buy this scope is the LRF function. After using this scope, I learned how much I really need an LRF for coyote hunting. On numerous occasions, coyotes were much farther away than I thought. When the young coyotes are hitting the fields in the summer, it is really hard to judge distance in large open fields where we hunt. The LRF told me that coyotes that I thought were around 200 yards away were actually 300+ yards away.
It also lets you pre-range objects like a tree line for reference. If you range a tree line 200 yards away, you know anything that comes to the center of the field is about 100 yards away. The LRF is such a big advantage, I will really find it hard to do without. I thought just shooting a flat shooting cartridge like a 243 or 22 Nosler was enough to overcome the need for an LRF, but I have changed my mind.
While hunting, all the other great features of the scope helped me too. The control buttons made it extremely easy to use, the image let me easily ID animals at longer ranges. The image quality was good enough that I could use the digital magnification with good image quality. Image quality was good even in poor thermal conditions.
After using it, I am surprised it only costs $3295. I am pretty sure this is the lowest-priced LRF thermal rifle scope on the market. I highly recommend it for any kind of varmint hunting or hog hunting. If you are in the market for a 384 resolution scope, this one is hard to beat.
The only thing I wish AGM would improve on this scope is the time it takes to get the recording started. You have to hold the button for 5-6 seconds to start the recording and this cost me a shot at a coyote.
AGM Varmint LRF TS35-384 Specifications
12μm high sensitivity thermal detector
Fast 50Hz imaging
1x, 2x, 4x, 8x Digital zoom
Adjustable color palettes
Built-in laser rangefinder
High-resolution OLED display
Various reticle types and colors
On-board video recording and snapshot
Built-in EMMC storage (16 GB)
Wi-Fi data transmission
Standby mode
Up to 4.5 hours continuous runtime
External power supply compatibility
Waterproof & shockproof
Limited 3-year warranty
Palettes: Black Hot, White Hot, Red Hot, Fusion
Reticle: 5 types, 4 colors, on/off
Boresight Adjustment: Digital Controlled
Boresight Increment: 0.13 mil / 0.44 MOA
Scene Mode: Yes
Picture In Picture Mode (PIP): Yes
Hotspot: Yes
Observation Distance: 1,750 m
Detector type: 12 μm VOx Uncooled Focal Plane Arrays
Response Waveband: 8 μm to 14 μm
FFC (Flat Field Correction): Auto, Manual, External Correction
Highest Temperature Spot Tracking: Yes
Standby Mode: Yes
Refresh rate: Sensor 50Hz / OLED 50Hz
Aperture: F1.0
Resolution: 384 × 288
Laser Rangefinder: Up to 600 m, ±2 m accuracy
Laser Wavelength: 905 nm
Optical magnification: 3x – 24x
Lens (focal length): 35 mm
Field of view (H × X): 7.53° × 5.65°
Digital zoom: 1x, 2x, 4x, 8x
Monitor: 1024×768, 0.39 inch, OLED
Eye relief: 45 mm
Storage: Built-in 16 GB EMMC
Record Video: On-board video recording
Capture Snapshot: Yes
Battery Type: One 18650 (3.7V) Lithium Rechargeable Batteries
CVBS Output: Yes (via USB)
Battery Operating Time: Up to 4.5 hours
Battery Capacity Display: Yes
External power supply: 5 VDC/2 A, USB Type-C
Operating Temperature Range: -20°C to 55°C (-4°F to 131°F)
Weight: 706 g (1.55 lb)
Overall Dimensions: 217 × 66 × 106 mm (8.5 × 2.6 × 4.2 in)
Protection Level: IP67
What is in the box
AGM Varmint LRF TS35-384 384×288 12µm Thermal Scope
Video-out or external power supply Type C USB cable
American Defense QD Weapon Mount
Two Lithium Rechargeable 18650 batteries
Battery Charger
Front lens protective cap
Eyepiece rubber eye guard
Soft Carrying Case
Instructions manual
More Thermal Scope Reviews
Old Deer Hunters on Youtube https://www.youtube.com/channel/UCKSZL-CUbG26cRcAyI2tbxw
Shop Pulsar Thermal Optics at Outdoor Legacy
If you want a new AGM Varmint LRF TS35-384 thermal scope, call  Outdoor Legacy Gear at (877)350-1818. Jason or Hans will take the time to help you decide which thermal scope or other night vision optic is best for your hunting needs.
For the latest news about Night Vision Optics, subscribe to the most informative show on Youtube, the Late Night Vision Show. Hosts Jason Roberts and Joel Miller will keep you up to date on Night Vision Optics and entertain you with some great hunting videos.
Also please visit our featured Youtube channels Outdoor Legacy on Youtube, HansETX, and The Old Deer Hunters for great hunting videos and thermal optic reviews.